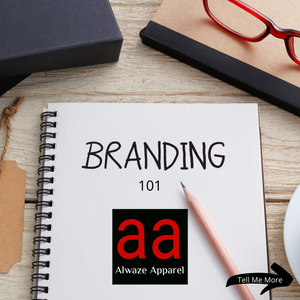 Branding 101...Stand Out!
Stand Out!!!
You Are Not Like Them.....Stand Out 
For your company to be successful, it is important to create a brand that is unique..unique to you and only you. By creating a unique brand that stands out from the crowd, your company catches customers eye over your competitors. This helps you excel far past any of your competitors.
So how do you stand out?

🔸️ Create an Identity- Your identity should shine through everything you do.. Your products, advertisement, your employees, and and store presence whether it be a brick and motor or online.

🔸️ Provide Value- Give your customers something that they want, need, and appreciate. Create something that people will wait in line for & pay top dollar for because it is worth it.

🔸️ Be Consistent-To build a brand that holds value, you MUST be consistent. Every aspect of your brand needs consistency:  your customer service, your products, your advertisements...Everything!

It is not just the product that will set your company apart from the competition, it's your brand. To create a unique and successful brand you must create a strong identity, create value for your business, and be consistent.
Brand with Alwaze Apparel. 
If You Can Think It. WE CAN PRINT IT.
Contact us Today for a Quote! 
---